The Ecologic was specially designed to monitor the diverse liquid sensors distributed in a floor Gas Station. The sensors can be installed in monitoring wells in the double wall tanks in pump sump, tank sump, diesel filters and in the various chambers of sidewalk at the Station.
With Ecologic Console you can perform the following operations:
Verification of leak alarms;
Recognition of alarms;
Visual and audible indication of alarm;
Distinction to sound new alarms and recognized alarms;
Indication of operation of MuxLiq modules;
Change clock in real time;
Display of generated events grouped by zone;
Indication of date and time in alarms generation;
"Debounce" inputs to avoid false alarms;
Configuration of the number of MuxLiq by console;
Connection of a siren through a dry contact indicating alarm;
Events registrated with time stamp with second resolution;
Allows the connection of a RS 232 printer with 40 columns for automatic print of event sequence.
The operation menus are easy and self-guiding, eliminating the use of shortcut guides or consult through special keys. The guidance menu allows quick access to all the features offered by any user, even if you have no training to operate. As has three safety barriers, can add up to 3 MuxLiqs therefore can monitor up to 24 sensors (Universal or Intelligent).
Events
All of alarms situations (leaks detected by the sensors, abnormal situations, etc.) are registered with time stamp at the moment that occurred and are called Events.
These registers let you track the history of events, verifying the sequence of how the alarms occurred, allowing a full analysis and careful of the occurrence of environmental damage and to take the correct solutions of control and containment.
The system allows the register of this history in a continuous list, in other words, the oldest event is replaced by the most recent event, but always keeping a history of 400 events by controlled zone.
For situations where you need only the Environmental Monitoring, the Ecologic Console is the ideal alternative. It's dedicated exclusively to control specific liquid sensors, but can easily be expanded to a full system S2, with simple addition of modules, reducing significantly migration costs.
Economical option for leak monitoring. – Operates in an independent way for exclusively monitor liquid sensors;
Developed with the same platform as the S2, keep its investment in the upgrade of the system so that it can evolve according to your needs.
The Most advanced technology in environmental monitoring by lower price.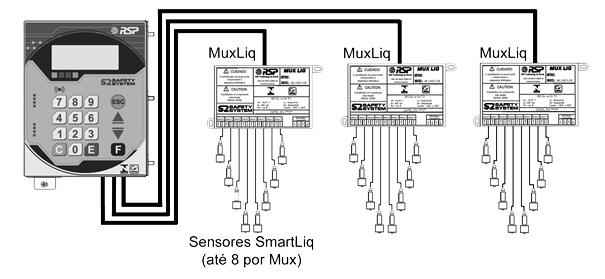 Features
LCD with backlight and 4 lines of information;
Water resistant membrane keyboard;
Function keys for quick access.
Technical Specifications
| | |
| --- | --- |
| Dimensions | 359 mm (W) x 434 mm (L) x 150 mm (H) |
| Weight | 1,2 kg |
| Operation Temperature | 0 to 50 °C (32 to 122 °F) |
| Humidity | 90% (Max) Not Condensing |
| Place of Installation | Safety and Protected Area |
| Power Requirements | 110V or 220V AC - 60 Hz |
| Approvals / Certifications | CEPEL |
| Communication | RS 485 |