Local Software Premium
The Software Premium allows your station or stations network to be viewed over the Internet. All data are to be reconciled in your network, allowing greater control over their information. It also has a wider range of device support and unique features depending on their Internet connection. This means that your company can instantly build a fuel logistics management on your network without need for high investments in development, creation and update of the platform, with only a low monthly payment.A number of essential services make up the Premium platform such as sending messages to cell phones to alert information (leaks, deliveries, low tank, etc..), E-mail, Control and automatic calculation of inventory optimization in the tank, making request / suggestion to buy, and many others.
Functional Appearance
Increased storage of historical data (supports up to 1 years of information on local disk);
Leak testing (programming);
Probes with CromaID support locally;
Forwarding data to Central;
Integration with pump controller (always updated);
Allows integration with RSP Protocol Management Systems (always updated).
Installation
The software is already installed on equipment, not being necessary any installation, only the licensing order of the system.
Update
Receive automatic update of your version by Internet, every deployment of new services and new devices.
Advantages
To use the Software Premium you need a connection to the Internet. This connection can be shared by station or can be a unique (3G, ADSL, Cable Modem). With the acquisition of the Software License Agreement Premium Site, the user will now have access to Central Premium software that lets you enjoy a number of features and essential facilities for the control of a Station network .
Support
Has the facilities of a Remote Support and On-Line Premium, which allows a diagnosis unique with personalized service by our technical team. Our team is trained to assist you and support your needs, so you have more control and can enjoy all the benefits of the S2 System.
Central Software Premium
Services offered by Central Premium mode are:
SMS Sending;
PAP Ordering (Automatic Product Request);
Emails Sending;
Central Login to access by multiple users over the Internet;
Automatic Data Backup in Central Local;
Commands sending by Central;
Wap Central use to connect via Phones.
S2 Premium Images
Home Screen:
Tank Screen: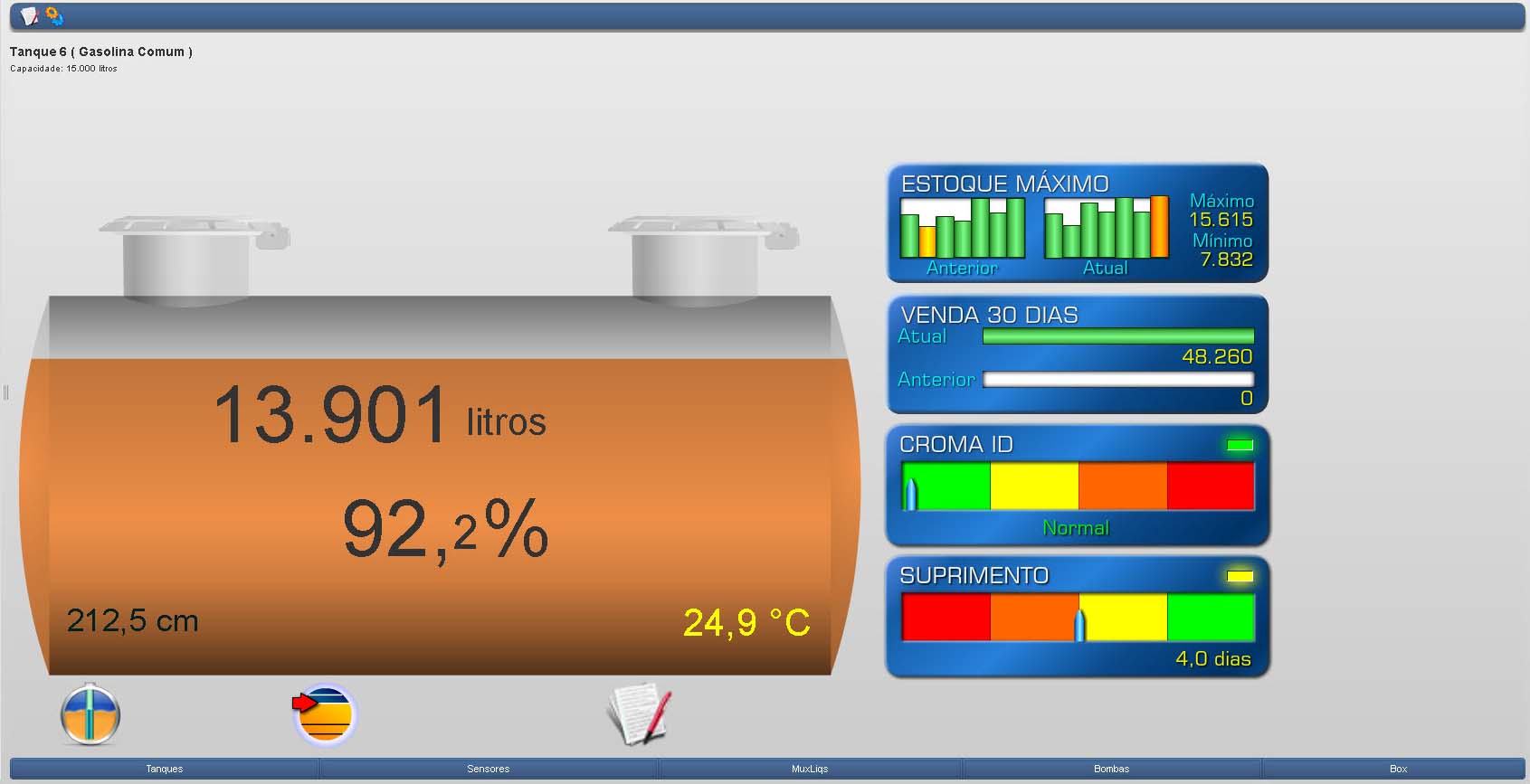 Refueling Query: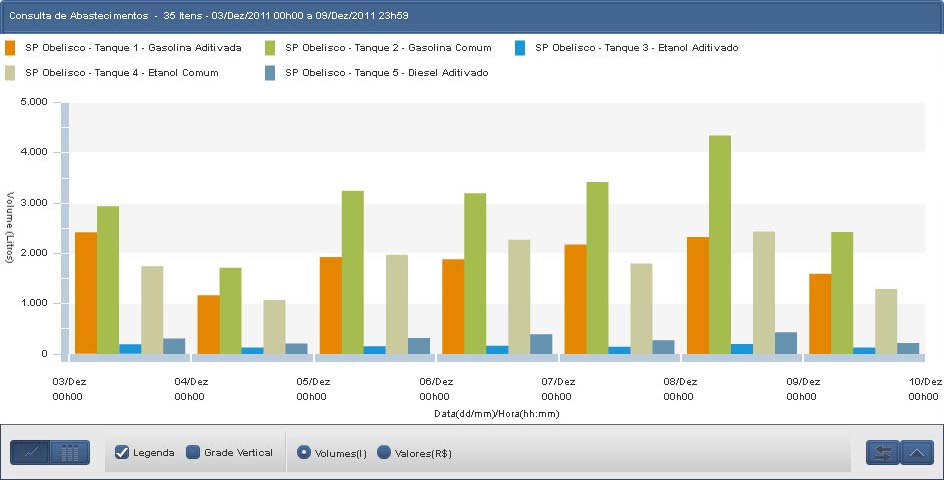 Pump Screen:
Tankage Query:

LMC and Forecast Sales Reports: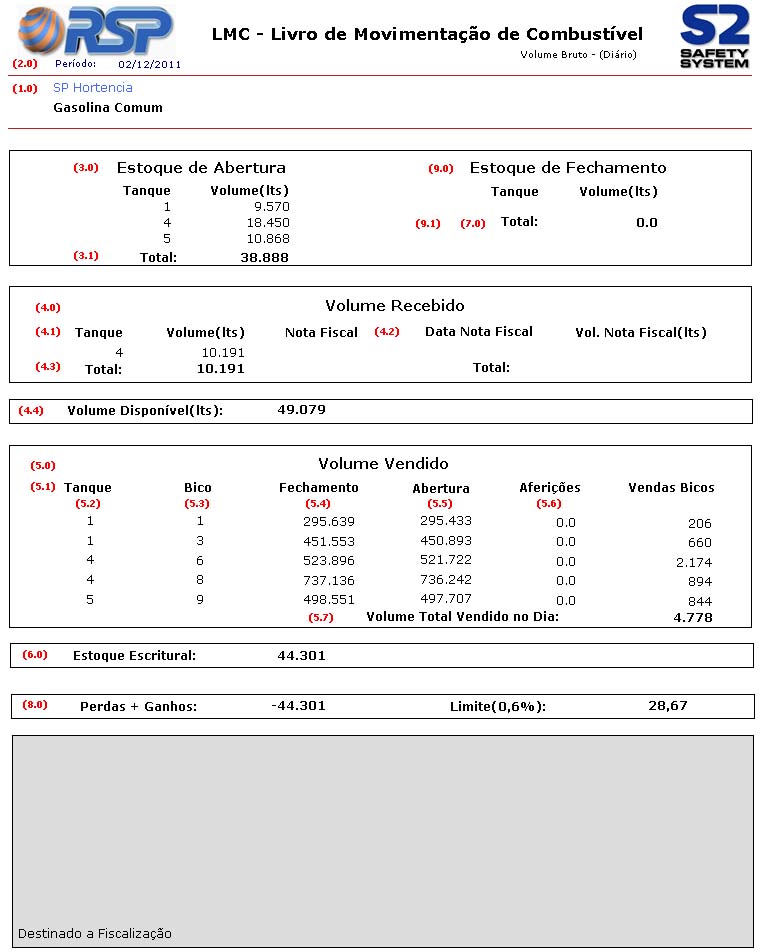 S2 Premium Features
Menu

Support

Historical

Refueling

Tank Calibrations

Deliveries

Totals

Tightness

Stock

Events

Sensors

Tankage Analysis

Sales

Reports

Refueling

Controlled Calibration

Totals

Tightness

Received Fuel

Deliveries Conciliation

Fuel Sales Conciliation

Daily Balance

Events

General Balance

Sensors

Sales - Pump

Sales - Probe

Tankage Analysis

Configuration

Configuration

Calibrations and returns

Site
Tanks
Products
MuxLiq
Console

Sensors

Installation

Operation

Invoices

Programmable Seal Unlocking

Programmable Tightness

Transfers

Reboot Supervisor

Users Register

Add/Delete Users and Profiles

User can change his Password