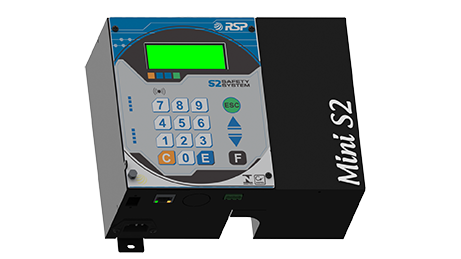 The MiniS2 equipment is a tank measuring and monitoring highly compact and robust platform based on the S2 System operating with fully distributed intelligence. Has a monitoring concept and modern graphical interface and differentiated by incorporating the main features of the S2 Management System.
For this, besides having a liquid crystal display and keypad for local viewing, the MiniS2 has a LAN interface for connecting application S2Pilot that intuitively displays all information essential for sensing measurements and the perfect management a station services.
For hazardous area has six safety barriers for connecting SmartProbe probes for accurate measurement of tanks and modules MuxLiq for environmental monitoring.
Features and Benefits
Connection possibility up to six probes (which may bear up to environmental sensors 12) or together with up to two MuxLiqs (and most 4 probes) to reach 24 to environmental sensors;
Continuous monitoring of volume delivery detection, alarms Level Events;
Graphical Interface completely;Operates in stand-alone mode (without Interface S2Pilot);
Performs the automatic timing of the information contained in MiniS2 and base data S2Pilot;
Fully compatible with the S2 platform, allows upgrade simply by changing from the Supervisor Console.
The S2 Pilot application has a built-in database to store the information in real time and view reports and events.
Installation and setup are extremely simple using the metal bracket (included with device) and allows them to be connected cables associated equipment.
The operation of MiniS2 can be accomplished by Intuitive menus in the device itself or remotely via S2Pilot.Todo the registration information is performed graphically simplifying operation.
Make available a series of reports and graphs in real time on the real state of the tank measuring and monitoring environmental alarms.
Technical Specifications
| | |
| --- | --- |
| Dimensions | Internal to SmartBox |
| Weight | 2,5 kg |
| Operation Temperature | 0 to 50 °C (32 to 122 °F) |
| Humidity | 90% (Max) Not Condensing |
| Place of Installation | Safety Internal Area |
| Power Requirements | 90/240 VAC, 50 or 60 Hz |
| Autonomy Time (Backup version) | 4 Hours |
| External Communication | Ethernet |
| Serial Channel | RS 485 |
| Place of Installation | Not Classified Area |
| Display | LCD 4 Lines x 20 Columns |
| SmartProbe Models | SP19 and SP25 (other models by request) |
| Software | S2 Pilot (Windows) |